Alexander Cruikshank (1787-1857)
An older brother of James Cruikshank   Please also see our Cruikshank Memorial page
He was born in Knockando, Morayshire in 1787 and in 1805, aged 18, enlisted in the 79th Highlanders and was commissioned in 1838 ending up as Fort Major of Edinburgh Castle.
[After a reorganisation of the British Army in the late 19th century, the 79th became The Queen's Own Cameron Highlanders; they were amalgamated in the 1960s first with the Seaforth Highlanders to become The Queen's Own Highlanders which more recently merged with the Gordon Highlanders and now known as The Highlanders Battalion of The Royal Regiment of Scotland or more simply as the Highlanders].
Historical Background – The need to contain and defeat Napoleon's expansionist plans provides the backdrop to virtually all the battles, engagements and actions in which Alexander Cruikshank was involved from the age of 20 in 1807 until Napoleon's final defeat in 1815.
The primary aims of the Peninsula Campaign led by the Duke of Wellington (see the statue of him on horseback in front of the entrance to Glasgow Museum of Modern Art, GOMA, in Exchange Square) at that time was to stop Napoleon gaining complete control of the Iberian Peninsula countries of Spain and Portugal and to enable these countries to regain their sovereignty. Supported by these countries Wellington achieved the objectives finally taking Madrid in 1808. Wellington continued to advance into France and after Napoleon's return from exile in Elba, a coalition of British, German, Dutch and Belgian countries, determined to defeat Napoleon, came together in two armies led by Wellington and Blucher leading to Napoleon's final defeat at Waterloo, followed by his exile in St Helena in 1815.
1807 saw Alexander Cruikshank in Denmark during the Napoleonic wars when a force of 30,000 soldiers and a fleet of 50 British ships bombarded the Danish fleet and the city of Copenhagen. They used Congreve rockets which were fire rockets developed by Britain after being on the receiving end of Mysorean rockets in south India. This bombardment of Copenhagen is considered the world's first terror bombardment of civilians.
For more information see
www.historytoday.com/richard-cavendish/bombardment-copenhagen
www.ijnhonline.org/wp-content/uploads/2012/01/Bjerg.pdf
www.youtube.com/watch?v=efx3eceJVGM
In 1808, Sweden was at war with Russia, Denmark and France. Though Alexander Cruikshank was in Sweden as a member of Lieutenant-General Sir John Moore's (Glasgow born and a statue of him is in Glasgow's George Square) expeditionary force, they did not fight for Sweden because of a disagreements with Gustavus IV and returned home. However, ships of the British Royal Navy assisted the Swedish Navy in the Baltic and oversaw the blockade of the Russian fleet at Baltiyskiy Port until the sea started to freeze.
For more information see
www.napoleon-series.org/military/battles/c_finnish.html
www.wfgamers.org.uk/resources/Napoleonic/russwed.htm
By August 1808, Cruikshank and the regiment, still under Lt-General Sir John Moore were sent to Portugal and joined the British army encamped at Lisbon. The objective was to drive the French out of Spain. They were joined by more men at Mayorga and moved on to Sahagun before their epic retreat to Corunna where the French troops caught up with them and Lt-General Sir John Moore was killed in action. On 16th January 1809, the 79th, as part of Lt.-General Fraser's division, was to hold the heights in front of the gates of Corunna. The French were held off and the troops embarked on ships to return to the UK.
For more information see http://www.britishbattles.com/peninsula/peninsula-coruna.htm
By July 1809, Alexander Cruikshank was a member of the ill-fated British Expeditionary Force of over 39,000 soldiers sent to the swampy island of Walcheren in Belgium. The intention was to support the Austrian forces against Napoleon's French forces. Although Flushing was captured, the Austrians had already been defeated and were negotiating a peace treaty with Napoleon by the time the force had landed. The French force had been moved to Antwerp.
Although the British had captured Flushing, the French had moved their fleet to Antwerp, thus denying the British any chance of destroying it. 4,066 deaths occurred during the expedition, but only 106 officers and men were killed in combat, the rest died from Walcheren Fever (malaria like) and after returning to the UK, 11,513 officers and men were still sick.
For further information see
www.napoleon-series.org/military/battles/c_walcheren.html
www.napoleon.org/en/reading_room/articles/files/480229.asp
In January 1810, Alexander Cruikshank and the 79th Highlanders embarked for Portugal again, but this time to join the army acting under Sir Arthur Wellesley and proceeded to assist in the defence of Cadiz in Spain. In August they returned to Lisbon and joined the army under Lord Wellington at Busaco on 25th Sept. On the 27th Sept, the French attacked and the regiment fought with distinction but lost a number of soldiers. A number of skirmishes followed throughout the time up till March 1811 when the regiment captured the Lt-Colonel of the 39th French infantry at Fez d'Arouce.
Alexander Cruikshank took part in the Battle of Fuentes de Oñoro (3–6 May 1811) village when the French repeatedly attacked the position held by the 79th , 71st Highlanders and 24th Regiment all under command of the 79th Regiment's Lt-Col Philip Cameron who among many others, lost his life. Cruikshank was captured by the French during this battle but managed to escape from his captors while on a march to France between Burgos and Vittoria and begged his way through Spain and Portugal until he re-joined his regiment at Almeida in Portugal.
From 16 March to 6 April 1812, Cruikshank took part in the Siege of Badajos (Baqajos on the memorial) castle under the control of a French garrison of 5000 men. This was a particularly bloody time with 4,800 allied forces killed.
For more information see http://en.wikipedia.org/wiki/Siege_of_Badajoz_(1812)
After the Siege of Badajos, the regiment moved around different areas and did not take part in any military engagements till Salamanca. However, during this period the 79th were hit with two severe sickness epidemics and it appears that Alexander Cruikshank did not take part in the Battle of Salamanca which took place on  22nd July 1812 when the French fought a joint British, Portuguese and Spanish force in the hills to the south of the village. It was a fierce battle but was a total success for Wellington and his men albeit there were very heavy casualties; the British, Portuguese and Spanish suffered 5,000 killed and wounded and the French 7,000 killed and wounded and 7,000 French soldiers were taken prisoner.
For more information see    http://www.britishbattles.com/peninsula/peninsula-salamanca.htm
After Salamanca the army entered Madrid by mid-August 1812
The Siege of Burgos Castle (150 miles north of Madrid), took place from 19th Sept to 21st Oct 1812. A garrison of French were stationed there and eventually the British and coalition forces were forced to withdraw when French reinforcements arrived and the British found themselves vastly outnumbered. Alexander Cruikshank  didn't take part as he was still to re-join his regiment after being captured at the Battle of Fuentes de Oñoro (3–6 May 1811).    
For more information see
http://en.wikipedia.org/wiki/Siege_of_Burgos
The 79th Highlanders were not involved in the Battle of Vitoria on 21st June 1813, as they were guarding the magazines and stores at Medina de Pomar.
The Battle of Pyrenees took place on 28th July 1813 with the 79th taking up a position across the valley of the Lanz and was almost immediately attacked by the French. Alexander Cruikshank is not thought to have taken part in this battle.
The Allied army (British, Portuguese and Spanish) followed the French army towards the French frontier and Cruikshank's next action was with the 79th Highlanders at the Battle of Nivelle on 10th Nov 1813
For more information see http://en.wikipedia.org/wiki/Battle_of_Nivelle  &
http://warandsecurity.com/2013/11/11/the-battle-of-the-nivelle-10-november-1813/
This led Cruikshank and fellow soldiers into the Battle of Nive in Dec 1813 where the French army were entrenched on the river bank.
Cruikshank and the Allied forces continued their advance to the blockade of Bayonne and the next major battle at Toulouse in Bordeaux in April 1814 ending on 11th April, the day before the abdication of Napoleon. 3500 Allied soldiers were killed. Alexander Cruikshank was awarded a silver medal with 5 clasps (see example of this medal below)
For more information see http://napoleononline.ca/2011/03/battle-of-toulouse/
http://en.wikipedia.org/wiki/Battle_of_Toulouse_(1814)
The 79th Highland Regiment remained in the south of France embarked in July 1814 and arrived at Cork in Ireland on 26th July from where the ship made two abortive (very stormy weather) attempts to sail to North America. The regiment then moved to Belfast in Feb 1815 where it remained till May.
June 1815 saw the regiment return to the Continent with all other available forces under Wellington and in another battle with the French by the 16th June at the important cross roads at Quatre Bras, in Belgium. This time it was a joint British and Dutch army that faced the French.
For more information see  http://en.wikipedia.org/wiki/Battle_of_Quatre_Bras
This battle was two days before the Battle of Waterloo, Belgium, in which Alexander Cruikshank, now aged 28, also participated. The Imperial French army (67,000 men consisted of 48,000 infantry, 14,000 cavalry, and 7,000 artillery with 250 guns) under Emperor Napoleon faced up to Wellington's army (67,000 men: 50,000 infantry, 11,000 cavalry, and 6,000 artillery with 150 guns, including support from Holland, Belgium and Germany).  50,000 men from the British, coalition and French army were killed in this battle.
Following the defeat of the French army, the coalition army, including the 79th Regiment, entered France on 19th June arriving in Paris on 8th July 1815. King Louis XVIII was restored to the French throne. Napoleon abdicated, surrendered to the British, and was exiled to Saint Helena, where he died in 1821.
The regiment camped just outside Paris till Dec 1815 when, as part of the Army of Occupation, they went into cantonments in Pas de Calais, where it remained till the end of October 1818, when it embarked for England, taking up its quarters at Chichester on the 8th of November.
For more information see http://en.wikipedia.org/wiki/Battle_of_Waterloo
http://www.youtube.com/watch?v=WwVqlSKjJGc
In 1819, Alexander Cruikshank was promoted to Corporal in November and in 1820 the regiment went to Ireland where they were deployed at Fermoy, Limerick, Templemore, Naas, Dublin, and Kilkenny
1822 – Alexander married Elizabeth Whitehearth
1824 – He was promoted to Sergeant
In August 1825 Cruikshank embarked from Cork for Quebec in Canada, arriving in October and remaining there till 1828 when the regiment moved to Montreal.
1832 – Alexander's second marriage, to Ann Gordon
1833 – Alexander Cruikshank was promoted to Quartermaster Sergeant and the regiment returned to Quebec from Montreal where it remained till 1836 when it embarked for the UK and by October was stationed in Glasgow before being moved to Edinburgh in June 1837.
1834 – Maria, a daughter was born in Perth,
1836 – Margaret, a daughter was born in Stirling
1838 – Cruikshank was commissioned Quartermaster on 12th October. The regiment returned to Ireland and remained there till the end of 1840 when it returned to Gibraltar where it arrived in January 1841 and carried out garrison duty till June 1848.
1841 – , Alexander Cruikshank's second wife, Ann Gordon, died in Gibraltar on 28th June, aged 30. She was buried at Sandpits cemetery, Gibraltar
1843 – Isabella, daughter of Alexander Cruikshank and his first wife Elizabeth, died in Gibraltar by drowning on 18th June, at 15 years of age and is buried in Sandpits cemetery, Gibraltar.
1849 – Alexander Cruikshank retired on half pay after an active service of 46 years (including the two years allowed for Waterloo)
1851 – On the recommendation of Lord Panmure, Cruikshank was appointed Fort Major at Edinburgh Castle by the Duke of Wellington. He held this position until his death. In the 1851 census, he lived at 11 Forres St, Edinburgh with two daughters, Maria and Margaret plus a servant, Catherine Ferguson.
In the Memoires of Col. E W Cumming, 79th News, January 1935 it states "Quarter Master Alexander Cruikshank or  'Auld Crooky' as he was called, was the last of those grand soldiers who, in the 79th, had fought in the Peninsular War and Waterloo. All the rest had passed away by death, discharge or to prison…….He delighted in dining at Mess, and always sat amongst the youngsters……He was a prisoner of war in the hands of the French for some time at Fuentes d'Onor (he escaped and rejoined) and this was the only part of his career that he was silent about, and could not be induced to speak of……he was a hard featured old fellow but had always a kindly pleasant smile on his face"
Standing from left to right: Lieutenant Adam Maitland; Captain John Douglas of Glenfinart; Lieutenant Keith Ramsay Maitland; Captain Andrew Hunt of Pittencrieff; Fort Major Alexander Cruikshanks; Captain William Chauval Hodgson; Lieutenant and Adjutant Henry MacKay; Lieutenant Edward William Cuming; Captain William Monro; Paymaster John Cornes; Captain Thomas Bromhead Butt; Major Edmund James Elliot; Lieutenant Colonel The Honourable Lauderdale Maule; Lieutenant George Murray Miller; Lieutenant William Cunninghame; Captain Henry Murray; Orderly Room Clerk Sergeant David Cant; Paymaster Sergeant George McLuckie; Private Charles Mackay.
1857, Alexander Cruikshank died aged 70 having completed 52 years of service to his country. He was buried in Warriston Cemetery, Edinburgh. See The Scotsman newspaper's report below for a full description of the funeral parade.
Scotsman Article of the funeral of Alexander Cruikshank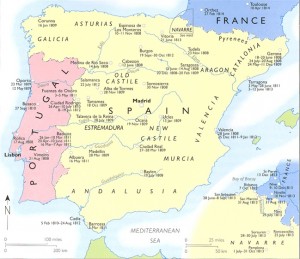 —
Another Glasgow Necropolis connection with the Peninsula war is through the memorial to Alexander Allan (1825-1890) in Zeta Division.
His father, Capt Sandy Allan (1780-1854) founded the Allan Line but before that, his 175 ton brigantine Hero was chartered by the British Government to transport troops, cattle, and goods to Spain to supply Wellington's army. He made much faster voyages than his competitors because he refused to remain in convoy with other ships being protected by a naval escort.
Further reference reading –
The Years of the Sword by Elizabeth Longford
To War with Wellington; from the Peninsula to Waterloo by Peter Snow