The Pattison Family
A profile of Granville Sharp Pattison can be found here.
There is an elegant group of monuments to the Pattison family – one of these erected against the face of the rock and is partly concealed from view by ivy has the following inscription along with the arms of the family.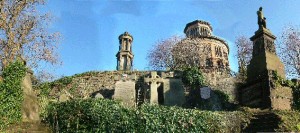 In memory of John Pattison of Kelvingrove, merchant of Glasgow who died 28th Dec 1807 aged 57 and his beloved wife Hope Margaret Moncrieff of the ancient family of Culfargie who died 3rd September 1833 aged 77.
To fulfil his dying wish that they should be laid together in one grave three of their sons, John, Matthew Moncrieff and Frederick on the 9th Sep 1833 removed their father's ashes from St David's churchyeard and deposited them with their mother's, in the vaults beneath.
Placide Quiescant
The Merchant's House granted the family the rights to have their son's memorial near his father's tomb – this is inscribed on the north side – see below for all the inscriptions.
The most impressive monument in the group is to :
Lieutenant-Colonel Alexander Hope Pattison
The most impressive monument in the group is to :
the full length figure, head uncovered with a martial cloak around him.
West side inscription
Lieutenant-Colonel Alexander Hope Pattison K H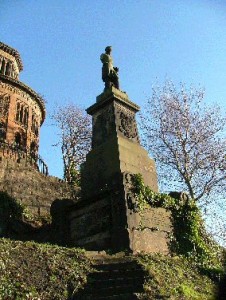 Commander of the troops in the Bahamas etc
After serving his country twenty-eight years
With Honour and Fidelity
Died at Nassau New Providence on the 11th Jany 1843
Aged 48
This monument to his worth and services is erected
By his friends and fellow citizens
1838
North side inscription
AD MDCCCXXXV111
By a grant from
The Merchants' House of Glasgow
Of the requisite ground
The Contributors
Were enabled to place Colonel Pattison's Monument
Near his father's tomb
On the central part of the column
The family armorial bearings with the motto 'Hostis honoris invidia' and on each of the other sides at the same height are the following inscriptions relating to the battles in which he was involved.
North side
Salamanca Madrid Retreat of Aranjuez Pyrenees
East side
Massena's Retreat Campo Mayor Fuentes D'onoro Badajoz
South side
Busaco Redinha Casal Nova Foz D'aronce
At the left side of this family enclosure is another monument with battle sculpture – it supports a group of armour ; helmet, sword etc – this commemorates LIEUTENANT ALEXANDER HOPE PATTISON.  The inscriptions on his stone tell all;
Alexander Hope Pattison, Lieutenant and acting adjutant of the 2nd West India Regiment and secretary to his uncle Lieut. Colonel Alexander Hope Pattison, K H commander of the troops in the Bahamas. ëYoung, beautiful, and brave,' he met his death at Nassau, New Providence, with the calm serenity of a Christian and a soldier, on the 28th day of September 1834 at the early age of 21. His brother officers have erected a cenotaph in the church at Nassau near where he was buried to express their ëvery high regard for his worth.' And his afflicted parents, John and Rebecca Pattison, in full assurance of hope that they shall again meet a beloved son, whom God in the providence hath for the present taken from them, have raised this stone to tell where he sleeps. 1836 . My Son! My Son!
South side
Extract of a letter from M General Lord Fitzroy Somerset* KCB
Military secretary
"To John Pattison Esq
"Horse Guards June 16th 1835
" I avail myself of the earliest opportunity to express to you my sincere condolence on the irreparable loss you have sustained in the death of your son.
"It is hardly possible on such occasions to say anything which can afford comfort or consolation to an afflicted parent; but it must be a satisfaction to you to reflect that he was beloved by all; and that he had done himself as much credit as was possible in the situation in which he was placed, during the period of his service in the army.
kl*M General Lord Fitzroy Somerset – Lord Raglan
North side
He went with his glorious feelings yet
In their first glow
Like a southern stream that no frost hath met
To chain its flow
He went with his noble heart unworn
Warm and pure and high
An eagle stooping from clouds if morn
Only to die
He hath left a grief in this father's breast
Deep deep and dear
And a memory to his mother blest
With faith's mild tear
And a spotless name above the blight
Of earthly breath
Beautiful beautiful and bright
In life and death
East side
Quis Desederio sit pudor aut modus
Tam cari capitus
Translation of this extract from Horace :
Why be ashamed or why a limit set
To breathe for one so dear our fond regret
Most of the Pattisons achieved fame in one way or another. Alexander's brother, Granville Sharp Pattison, (spelt Sharpe on the stone), was an Anatomist and set up Anatomy Departments in Glasgow, London and the USA (Philadelphia). He was never far from controversy, as described in his biography, "Granville Sharp Pattison – Anatomist and Antagonist 1791-1851" by a descendant. F. L. M. Pattison
The "antagonist" of the subtitle says a lot. Granville Pattison, the anatomist who kept a pair of pistols displayed on his desk, seems to have lived a strange life. As a young lecturer in Glasgow, he was indicted for body snatching at twenty-three (not proven verdict), accused of malpractice at twenty-six and left the city after an affair with a colleague's wife. He moved to Philadelphia, where he made enemies. Then onto Baltimore ending up duelling and brawling. Next
to London University in 1827, where student accusations of incompetence led to riots and he was sacked. From there he went to Jefferson Medical College in Philadelphia in 1831 (where he gave himself an MD) and finally to New York University 10 years later bankrupt. Despite all this he did achieve much ; he helped to found the Glasgow Medical Society and to establish the Baltimore Infirmary, and his stature in America as a lecturer grew in his later years.
A picture of Granville Sharp Pattison can be found on the National Portrait Gallery website.
A profile of Granville Sharp Pattison can be found here.