Muir Family and Friends
The Muir Family and Friends
Profile supplied by and copyright of Morag T. Fyfe
In compartment Beta of the Glasgow Necropolis a stone commemorates James and Mary Muir and three of their children.  The mother and three children all died on the 22nd May 1868 when the SS Garonne was wrecked off Lands End.  James Muir was rescued but died two weeks later on 7th June at Penzance, Cornwall.
Further research reveals a tragic story in which ultimately the sole survivor of eighteen passengers on board the Garonne was a five year old boy.  Amongst those lost that night were two mothers of families, seven children ranging in age from nine months to nine years, five female maids and nurses accompanying the families, an elderly gentleman in his late sixties and his nephew dying from consumption.  The father of one of the families was rescued along with his son but died later.

View Larger Map
Location of wreck
SS Garonne was a schooner rigged steamer of 499 tons register built at Hull in 1866 and owned by Messr. James Moss and Co. of Liverpool.  She was 225 feet long and had engines of 90-horse power.  Commanded by Benjamin Drew from Megavissey she and her captain had been specially requested to bring this party home from France.  On the voyage from Bordeaux to Liverpool she struck one of the Bucks Rocks between Land's End and Penzance about 11pm on 22nd May while going at full speed in thick fog.  In the confusion as the vessel broke up all the passengers were swept overboard and sixteen drowned.  The crew managed to launch three boats and eighteen out of twenty two crewmen survived.  The master, mate and two stewards were lost.
A Board of Trade Enquiry was held at Penzance in June into the circumstances of the sinking and Captain Drew was blamed.  Comment in the Glasgow newspapers suggested that the crew should also have been held to account as making no effort to save the passengers but they were exonerated at the enquiry.  The whole sorry episode was widely reported in the newspapers at the time.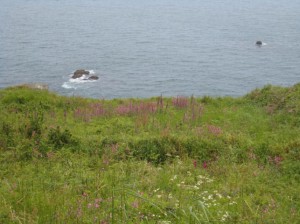 Inner and outer Bucks from the coastal path
© Copyright Rod Allday and licensed for reuse under this Creative Commons Licence
The passengers on board were a group of neighbours and friends from Bothwell, Lanarkshire.  James Muir and his family had lived at Dunclutha House, Bothwell until 1867 when they are said to have moved back to Glasgow, though the PO Directories do not give a new address there for them.  Alexander Turner and his nephew William Turner lived at Grange, Bothwell and James McEwan and his family lived at Greenknowe, Bothwell.  According to newspaper reports all three families had gone together to spend the winter months at Pau in the south of France and were now returning to Scotland.  William Turner's married sister Thomasina Maclellan had also spent the winter with them but she was recommended to return home overland and not by sea.  Thus she survived the tragedy that befell her brother and uncle.  Alexander Turner had not been at Pau over the winter but travelled out especially to escort his sick nephew home.  Also in the party were two French maids attached to the Muir family who are only known as Madeline and Marie from a death intimation.  The McEwans had two servants with them one of whom has been identified as Susan Spencer aged 19 of Castleroe, Coleraine, Northern Ireland.  The other is described in newspaper reports simply as a highland girl and no further details of her have been discovered.  Mrs Maclellan's nurse Christina Mackenzie from Doune, Perthshire travelled with the Turners to look after William Turner and was also lost.  Without a very careful reading of all the newspaper reports it is difficult to ascertain exactly how many bodies were recovered and returned to their families for burial.
James Muir seems to have been born about 1823 in Paisley probably the eldest son of Matthew Muir, a grain merchant according to the 1841 census, and Margaret Stevenson.  He married Mary Erskine the second daughter of James Erskine, Governor of Carrickfergus Gaol (1827-48) in Glasgow on 6th October 1857.  The couple had four children:
Mary Erskine Muir born 15th Dec 1858 at Tradeston,
Margaret Elizabeth Muir born 26th June 1860 at Roseneath,
Matthew Muir born 16th October 1862 at Tradeston and
Anna Erskine Jackson Muir born about July 1867 (9 months old when she died on the Garonne).
Anna's body was soon recovered but her mother's was not found until the 20th June and those of her two elder sisters do not seem to have been recovered at all.

Glasgow Herald, Thursday, May 28, 1868.
James Muir and his brother Thomas were partners in Matthew Muir & Sons who ran the Tradeston Flour Mills.  By the census in 1871 Matthew Muir, junior the only survivor of the wreck seems to have been living with his uncle Thomas and his aunt Ada at Ballincleroch House, Campsie, Stirlingshire.  Disaster struck the Muir family again when a dust explosion and fire destroyed the Tradeston Mills on Tuesday 9th July 1872.  Eighteen people in the mills and surrounding buildings lost their lives.  As a result by 1878 the firm was in financial trouble and I do not know how long it survived.
The other family on board was the wife and children of James McEwan.  James McEwan of Smith & Sharp, Wholesale Grocers and Tea Merchants, Buchanan Court, 75 Argyll Street came to Glasgow from Port of Menteith.  He is probably the James McEwan born on 18th March 1817 at Port of Menteith to Duncan McEwan and Janet Ferguson.  He married Elizabeth Graham McColl on 22nd April 1859 at Kirkintilloch and had five children:
Mary Henderson M'Ewan born 23rd March 1860 at Kirkintilloch,
Duncan M'Ewan born 2nd Aug 1861 at Kirkintilloch (died young),
Janet (Jessie) Ferguson M'Ewan born 10th July 1862 at Kirkintilloch,
Daniel M'Ewan born 30th Apr 1864 at Bothwell and
James M'Ewan born 12th May 1866 at Bothwell.
The bodies of all four children were recovered but that of Mrs McEwan does not seem to have been found (certainly not up to the end of July 1868 when I stopped searching newspapers).  The four children were buried at Bothwell on 29th May according to a newspaper report.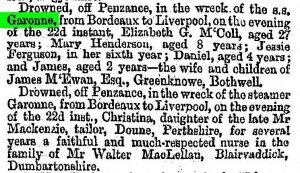 Glasgow Herald, Wednesday, May 27, 1868.
The remaining two members of the part to lose their lives were Alexander Turner born 8th December 1802 at Luss, Dunbartonshire, son of Duncan Turner and Lucy Leitch, and his nephew William Turner born 26th October 1831 in Jamaica, son of William Turner and Mary Fenton Stephenson.  Alexander Turner was unmarried and seems to have acted as guardian to his niece and nephew Thomasina and William Turner.  He was an East Indian merchant retired from the firm of Martin, Turner & Co.  His nephew William had previously been in Melbourne as a merchant.  Both men's bodies were recovered and they are probably buried in the family lair in Luss graveyard.  The body of Christina Mckenzie who had been looking after William Turner was also recovered.