Michael Scott and James Bogle
Richard Michael Scott of Western Australia sent this information about his great great great grandfather, Michael Scott and Michael Scott's brother in law Robert Bogle of Gilmorehill
Michael Scott, Merchant of Glasgow and author of Tom Cringle's Log and The Cruise of the Midge, was born to Allan Scott and Margaret Buchanan on 30th October, 1789 at his father's house 'Cowlairs' which was situated in its own park in the countryside, just outside Glasgow.(1)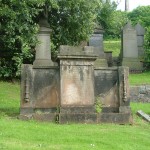 His father, Allan Scott was of an old family and a Merchant of Glasgow, in the well-known firm Bogle & Scott, in partnership with Allan Dreghorn and Michael Bogle.(2) Allan Dreghorn was the Architect for St. Andrews Church in St. Andrews Square, Glasgow. He was also Allan Scott's uncle, because his sister Margaret Dreghorn was Allan Scott's mother. Michael Bogle, married Janet Scott, Allan's sister, and was namesake for his nephew and a witness at the registration of his birth.(3)
The site of the Bogle & Scott office and warehouse is now occupied by another St. Andrews, the Catholic Cathedral in Clyde Street on the banks of the Clyde River, between Jamaica Bridge and Victoria Bridge. Michael Scott attended the old Glasgow Grammar School until 1801 and then Glasgow University in High Street, between 1802 and 1805, where he read Latin, Greek and Logic. He matriculated in 1805.(4) While at University, he studied with John Wilson (aka Christopher North) and particularly Thomas Hamilton (later author of Cyril Thornton) with whom he was an 'inseparable companion' (5) and maintained a life long friendship. John Gibson Lockhart also attended Glasgow University at this time and later went on to edit the Blackwood's Magazine and the Quarterly Review.
In 1806 Michael Scott went out to Jamaica, under the mentorship of George William Hamilton, a nephew of Robert Bogle of Gilmorehill of whom more later. (Gilmorehill is now the site of the Glasgow University. (6)) His affection and regard for George William is evident in the character Aaron Bang, a planter in Jamaica that he created in his first novel Tom Cringle's Log. (7)
Michael continued under George's tutelage until 1810, when he entered Robert Bogle's mercantile house in Kingston. His business, coupled with Hamilton's friendship, brought him into contact with every level of society in Jamaica and sent him on frequent voyages around the Caribbean. It is these travels and experiences that formed the basis of the events and places he describes so vividly in the 'Log' which, in the days before photography and television, found avid readers in both Britain and Europe.
Of the many scenes he describes in Jamaica, one includes a description of giant cotton tree on the road between Kingston and the old capital, Spanish Town.(8) This tree has been commemorated as "Tom Cringle's Cotton Tree" and also because of its unique size was probably one of the most photographed trees in Jamaica.(9)
In 1817 he married, in Glasgow, Margaret Cathcart Bogle, daughter of the aforementioned Robert Bogle of Gilmorehill, Merchant in Glasgow and Jamaica. Margaret was also his first cousin once removed i.e. granddaughter of Michael Bogle and Janet Scott. Michael and Margaret returned to Jamaica for a short period between 1820 and 1822.
It was around this time he sometime lived at Raymond Hall, the greathouse for the 'Maryland' coffee estate situated high up in the Blue Mountains in Jamaica with magnificent views over Kingston and Port Royal. Anthony Trollope who visited Jamaica in 1859 reports that it was here that Michael Scott wrote some of the early sketches, later to be adapted for the Log.(10)
In 1822 Michael Scott returned to Glasgow as a Merchant on his own account with offices in both Glasgow and Maracaybo, Colombia on the Spanish Main (now South America).
He and Margaret established their household at Atholl Place in Bath Street and another in the country at 'Birselees' on the banks of the River Ale near St Boswells and Melrose in Roxburghshire. The father of his biographer, Sir George Douglas, who acquired Birselees after Michael Scott's death attests that parts of the Log were written at Birselees.(11) Thomas Hamilton, his close friend from university days had married in 1820 and lived for some time at 'Chiefswood' near Melrose, and was a frequent visitor at Sir Walter Scott's home 'Abbotsford' (12) as was Christopher North and another Glasgow alumni, John Gibson Lockhart, who eventually married Sir Walter Scott's daughter, Sophia. Incidentally they also lived for a time at Chiefswood. It is not unreasonable to assume that Michael, who shared similar interests and friendships with all, was also included in the group gatherings at Abbotsford.
In 1829 'Tom Cringle's Log' first appeared as a set of magazine papers and ran without interruption until August 1833 in Blackwood's Magazine. William Blackwood the publisher, greatly admired the sketches which were quite unique for the times and encouraged Michael Scott to devise a connecting link so that they could be published as a novel. Thus was born the young midshipman Thomas Cringle! His Log was first published in 1834 and in Paris in 1936 and was an immediate success. Both Christopher North and Samuel Taylor Coleridge pronounced the novel as "most excellent".(13)
John Lockhart of the pontifical 'Quarterly Review' hailed it as "the most brilliant series of magazine papers of the time". (14)
Michael Scott wrote his novels incognito and it was not until just before his death that his publishers Blackwood's, became aware of the author's true identity. The public only became aware after his death. Michael Scott derived a huge amount of pleasure from the speculation about the 'real' identity of the author, especially amongst his close friends from his University days i.e. John Wilson and Thomas Hamilton. In a letter to William Blackwood (now preserved in the National Library of Scotland) he writes "…I could not have dreamed that (my identity) would have created so much speculation and fun – mind your eye with Master Cyril (Thomas Hamilton) and his highness the Professor…" (John Wilson, Professor of Ecclesiastical History at Edinburgh University in 1831). (15)
Although they never met, Michael Scott and William Blackwood formed a close relationship over the many years they corresponded between Glasgow and Edinburgh. Michael counted William as his literary counsellor and a valued friend.
It is only when he became aware of Williams declining health and eventual death that "…had I known the melancholy circumstance of his disease sooner, nothing should have prevented me visiting him…."  During the summer of 1835, Michael Scott stayed at Royal Leamington Spa, Warwickshire, seeking a cure for his own illness. In September he returned to Glasgow but died on 7th November, 1835 at his town house, Number 198 Atholl Place in Bath Street.  The house is still standing today. He is buried at the Necropolis (16) in Glasgow near St Mungo's Cathedral in which he was christened.  His unpretentious monument simply read,
In Sacred Memory
Michael Scott
Merchant of Glasgow
Died 1835 aged 46
The inscription is now all but lost.
Buried next to him is his brother-in-law and close friend James Bogle, son of Robert Bogle of Gilmorehill. James actually lived at Atholl Place with his sister, Margaret Cathcart Bogle until he died on 3rd May, 1855. James Bogle occupied at intervals, high public office as City Councilor and Magistrate and was Lord Dean of Guild between 1846 and 1848. (16) Michael Scott is also commemorated in the "Poets Corner" at the Royal Botanic Gardens at Hope in Kingston, Jamaica.
Admiration for Scott's two novels was best stated by David Macbeth Moir 'Delta', who said "We love Marryat, and admire Cooper; but Michael is the master spirit of the sea" (17)
Michael Scott and Margaret Cathcart Bogle had nine children.
Margaret Bogle Scott b. 2 March 1819
Alan Buchanan Scott b. 25 March 1820 (born in Jamaica)
Jessica Robina Scott b. 10 February 1822
Robert Bogle Scott b. 27 April 1824
Agnes Cathcart Scott b. 26 January 1827
Jane Kennedy Scott b. 29 May 1829
Michael Hugh Scott b. 20 October 1831
James George Thomas Scott b. 7 September 1833
Archibald Campbell Scott b. 11 August 1835
Richard Scott has now (2021) written a full biography of his ancestor which can be found
here
. A hardback copy of the book can also be purchased from the Blurb Bookstore at
https://www.blurb.com/bookstore
.
REFERENCES
1. MORRIS Mowbray- 1895- Tom Cringle's Log, Introduction- MacMillan & Co-
London, page viii
2. BUCHANAN John- 1878- The Old Country Houses of the Old Glasgow Gentry-
James MacLehose & Sons- Glasgow, chapter xxv, paragraph 4
3. Old Parish Records, Glasgow, Births 644/0010180
4. Roll of Matriculated Students- Glasgow University Archive
5. DOUGLAS Sir George- 1897- The Blackwood Group- Oliphant Anderson & Ferrier-
Edinburgh, page 137
6. BUCHANAN John- 1878- The Old Country Houses of the Old Glasgow Gentry-
James Mac Lehose & Sons- Glasgow, Chapter L, paragraph 9
7. MORRIS Mowbray- 1895- Tom Cringle's Log, Introduction-MacMillan & Co-
London, Page x – xi
8. SCOTT michael- 1895- Tom Cringle's Log- MacMillan & Co- London, chapter xi,
page 237
9. Newspaper Article- 8 Oct 1962- Tom Cringle's Cotton Tree-The Gleaner Newspaper-
Kingston
10. duQUESNAY F.J.- Michael Scott And Raymond Hall- The Gleaner Newspaper-
Kingston
11. DOUGLAS Sir George- 1897- The Blackwood Group- Oliphant Anderson & Ferrier-
Edinburgh, pages 135 and 140
12. DOUGLAS Sir George- 1897- The Blackwood Group- Oliphant Anderson & Ferrier-
Edinburgh, page 155
13. NOLTE E.A.- Michael Scott and Blackwood's Magazine: Some Unpublished Letters,
Page 188, 1st paragraph
14. LOCKHART John Gibson- Quarterly Review Jan.1834, review of M. G. Lewis's
West India Journals
15. NOLTE E.A.- Michael Scott and Blackwood's Magazine: Some Unpublished Letters,
page 190
16. BLAIR George- Biographic & Descriptive Sketches of Glasgow Necropolis- Maurice
Ogle & Son- Glasgow, pages 55-57
17. THOMAS Aird- 1852- A Memoir prefixed to 'The Poetical Works of David Macbeth
Moir- Edinburgh
BIBLIOGRAPHY
NOLTE Eugene A. – Michael Scott and Blackwood's Magazine, Some Unpublished
Letters
BUCHANAN John- 1878- The Old Country Houses of the Old Glasgow Gentry- James
MacLehose & Sons- Glasgow
MORRIS Mowbray- 1895-Tom Cringle's Log, Introduction – MacMillan and Co.-
London
DOUGLAS Sir George- 1897- The Blackwood Group- Oliphant Anderson & Ferrier-
Edinburgh
McFEE William- 1927- Tom Cringle's Log, Introduction- Grosset & Dunlop- New York
E. R.- 1928- Tom Cringle's Log, Introduction- J. M. Dent & Sons Ltd- London
BLAIR George- 1857 – Biographic & Descriptive Sketches of Glasgow Necropolis-
Maurice Ogle & Son- Glasgow
duQUESNAY F. J.- 19.. – Michael Scott & Raymond Hall- The Gleaner Newspaper-
Kingston
Newspaper Article- 8 Oct 1962- Tom Cringle's Cotton Tree- The Gleaner Newspaper-
Kingston