Julia Flynn (1819-1887) and her multiple marriages
By Morag T Fyfe
Sometimes a simple gravestone can hide a very tangled family tree as illustrated by this stone found in compartment Alpha. Four people are commemorated on the front of the stone, one person is named on each side and the seventh to be buried had no one left to arrange for her name to be added.
In loving memory of / EMILY JULIA CLAREDON / born 20th November 1840 / died at Shanghai 20 August 1863 / buried here.
And of her husband / JOHN WILLIAM WOOD / Merchant Shanghai / died 26th August 1873 and buried at Port Said.
Also of their son / CLARENCE CECIL MILLER WOOD / born 11th August 1863 died 4 May 1884.
JULIA, widow of ANDREW DUNLOP / Merchant Bombay / died 4th December 1887 in her 69th year.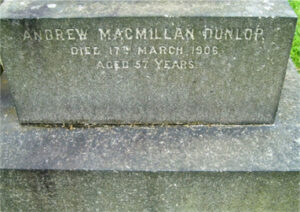 ANDREW MACMILLAN DUNLOP / died 17th March 1906 / aged 57 years.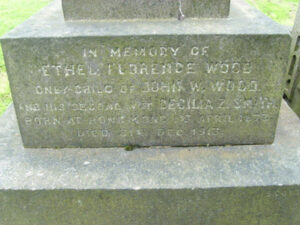 In memory of / ETHEL FLORENCE WOOD / only child of JOHN W WOOD / and his second wife CECILIA Z SMITH / born at Hong Kong 1st April 1873 / died 31st December 1913.
The name missing from the stone is that of Charlotte M B DUNLOP (formerly BOULT), aged 75 who was buried on 15th October 1918.
At first glance the stone seems to commemorate John William Wood, his two wives and two children but how to account for Julia and Andrew M Dunlop and Charlotte Dunlop or Boult? It turns out the link is Julia Flynn, daughter of Maurice/Morris and Julia Flynn born 1819/20 in London who married three times and had children with all three husbands.
Julia's first marriage
Julia's death certificate gives her father's occupation as 'soldier' and this could account for her presence in Bombay in 1833 when she married Sergeant Peter Clarendon by license on 7 November 1833. At the time of his marriage Clarendon was a sergeant in HM 2nd or Queen's Royal Regiment which had arrived in India in 1825. Clarendon seems to have been about 29 years old and Julia about 14. That Julia married so young suggests that her father was already dead and she had no male family members in India. The couple had at least one child, Emily Judith (or Julia) Clarendon born on 20th November 1839 and baptised on 25th January 1840. In the record of Emily's birth/baptism her father is described as a Sergeant Major in a British detachment from Persia but this may be a reference to the start of the First Afghan War (1838-42) in which the Queen's Royal Regiment took part. There is a suggestion from the 1861 census that Julia may have accompanied her husband as Emily's birthplace is recorded as Persia (or Perria as it is written) but the regiment had returned from Kabul to Quetta by 31st October three weeks before Emily was born. On balance it seems more likely she was born at the regimental depot in Poona (Pune) in Bombay Presidency. Just over a year after Emily's birth her father died at Poona and was buried there on 20th December 1840. By this date he seems to have transferred from his regiment and been appointed a Sub Conductor in the Commissariat.
Julia's second marriage
Eighteen months later, in St Andrew's Church, Bombay on 31st May 1842, Julia married her second husband a 29 year old widower called William Henry Boult who was an engineer at the New Mint in Colaba, Bombay. A daughter Charlotte Margaret was born to the couple on 25th March 1843. By the time Charlotte was baptised on 31st December 1843 in St Thomas's Cathedral her father was described as 'late' of the New Mint which suggests William was already dead by then.
Julia's third marriage
On 19th September 1844 Julia married her third and final husband Andrew Dunlop in St Thomas's Cathedral, Bombay. Andrew had been born in Glasgow in 1821 to James Dunlop and Mary Ann McMillan so was a couple of years younger than his bride. Along with a new wife he also acquired two step-daughters, five year old Emily and baby Charlotte who was only about eighteen months old. This marriage produced four further children between 1845 and 1853, James Arnold Collett (1845-1848), Andrew MacMillan (c1849-1906), Marianne (c1851-aft1880) and Robert (c1853-aft1881).
At his marriage in 1844 Andrew gave his occupation as a clerk in the Military Board Office but he later seems to have set up in business as a merchant and commission agent on his own account. In early 1858 adverts in the Bombay press suggest Andrew was preparing to close his Indian business and presumably return to Britain. He may have been in poor health by then as the Glasgow Morning Journal of 1st September 1858 carries an announcement of his death in London on 29th August.
It is not known whether he and Julia had intended to settle in England or Glasgow but by 1861 Julia and her brood can be found in that year's census of Glasgow at St Vincent Crescent. When Andrew made his will In 1853 he appointed two of his brothers as executors and trustees, Robert being resident in Glasgow. At that time his mother Marianne was also still alive so it is may not be unnatural that when Julia was widowed she chose to settle in her husband's home town close to some of his relatives.
Julia's children
Julia's daughter, Emily Clarendon, did not remain in Glasgow long as she travelled to Shanghai, China and married John William Wood in Shanghai on 4th June 1862. She died on 20th August 1863 in China (probably Shanghai) nine days after the birth of her son Clarence and it seems a reasonable assumption that she died from complications in childbirth. Her body was brought back to Scotland and she was buried in the Necropolis on 15th March 1864. (Bodies had occasionally been repatriated from Europe since the early 1850s but returning Julia's body from China to Glasgow was very unusual at that time). Her widower remarried to Cecilia Z Smith sometime before 1873 when a daughter, Ethel Florence, was born to them in Hong Kong on 1st April 1873. John and his family set off back to Britain later that year but he died on 26th August 1873 in Port Said, Egypt. He was buried there and his body was not returned to Glasgow though his death was recorded on the gravestone in the Necropolis.
Young Clarence Wood, Emily's son and Julia's grandson is found living with his grandmother and aunts and uncles in Glasgow at the 1871 and 1881 censuses before dying on 4th May 1884 and joining his mother in the Necropolis. He had been appointed church organist at St Jude's Episcopal Church in 1880 while still only sixteen years old. Three years after his death his grandmother Julia Flynn died and was buried in the family grave under the name of Julia Dunlop with no reference to either of her previous husbands.
When Clarence's half-sister Ethel returned to Britain with her mother (presumably in 1873 after John William's death) they settled in London and Ethel seems to have lived there or thereabouts all her life. None the less her half-brother Andrew M Dunlop made provision for her burial in the Necropolis in a codicil added to his will in 1902. She was duly buried there when she died in 1913.
The final member of the extended family to be buried in the Necropolis was Charlotte M Boult in 1918. After their mother's death in 1887 she and her half-brother, Andrew, continued to live together until his death in 1906 and he made provision for her in his will. For much of her adult life Charlotte seems to have used her mother's final married surname Dunlop. Her death was registered as 'Charlotte Margaret Boult Dunlop (formerly Boult)', which seems to cover all eventualities and the entry in the burial register used the same form of name.
A final wrinkle in this story is that the first legal owner of this lair was Clarence C M Wood who was a seven month old baby when this lair was purchased for the burial of his mother in March 1864. One presumes that his grandmother actually bought the lair and registered it in his name.
Sources
Find my Past:
The marriages of Julia and Peter Clarendon in 1833
Julia and William H Boult in 1842
Julia and Andrew Dunlop in 1844
The christening of Emily Clarendon in 1839
The burial of Peter Clarendon in 1840
The christening of Charlotte Boult in 1843
The marriage of Emily Clarendon and John W Wood in 1862
The confirmation of his will and the inventory of Andrew Dunlop in 1858
Various censuses
Bombay Gazette 30 Dec 1840 for the death of Peter Clarendon
Bombay Gazette 1 Apr 1858 for Andrew Dunlop selling up
Glasgow Morning Journal 1 Sep 1858 for the death of Andrew Dunlop
ScotlandsPeople:The death of Julia Dunlop (1887 646/3  694)
The death of Andrew M Dunlop (1906 646/3  251)
The death of Charlotte Dunlop (1918 644/12 895)
Probate for Andrew M Dunlop 1906 (SC36/51/140)