John Taylor, Senior (1792-1866)
Contributed by John Taylor Park
The early years
John Taylor was born in Paisley on or about 3rd April 1792, the first of seven children for his parents John Taylor and Elizabeth Lang. John and Elizabeth were both Paisley natives and had married there in May of the previous year. Younger siblings Thomas, James, Agnes, Margaret, William and Janet would follow after John's arrival. His father, a weaver to trade, was also a co-Pastor at the Storie Street Baptist Church in the town during the first half of the 1800s.
John was 22 years old when he married Janet Barr (known as Jessie) on 17th July 1814 at Paisley. Janet was also Paisley born, however both her parents were originally from nearby Kilmacolm.
John and Janet's family soon began to grow, with John junior born in 1815, Margaret in 1817, and Elisabeth in 1819. The Taylor family then moved from Paisley to Glasgow at some point between 1820 and 1825, after which they had a further four children, Jean in 1825, Agnes in 1827, Janet in 1829, and finally Thomas in 1831.
The 1841 census recorded the Taylor family living at Apsley Place in the Gorbals district of Glasgow. John is described as a Shawl Fringer, a skill no doubt gained from the extensive textile industry in his native Paisley. The family are all still living together at this time apart from eldest son John who had left Scotland to work in Trinidad about a year earlier.
The following year 1842 brought contrasting fortunes for John and his family. The first of his children married in June of that year when John junior wed Catherine Michie of Old Kilpatrick at Port of Spain in Trinidad. However, this happy event was countered with sadness less than two months later when John's wife Janet died in Glasgow on 12th August at the age of 48.
 The Trinidad era
Following this loss John embarked on a remarkable change of career which would bring about profound changes for both him and his family. John senior and junior formed a business partnership in 1843 to trade as West Indies merchants based in Trinidad. John junior had already established himself there as a merchant, working initially for the Croil family of Glasgow before going into business for himself.
It seems likely that John and his family moved to Trinidad at this time and lived there until 1849. Their merchant business had trading links with Glasgow, Liverpool and other UK ports so he would likely have spent time in both Trinidad and the UK, but family events seem to suggest he was based mainly in Trinidad during this period. The only family member not to have moved to Trinidad was his eldest daughter Margaret, who remained in Scotland and married Carmunnock farmer George Park in October 1843.
The father and son merchant business appears to have been hugely successful during this six year period. There were a surprising number of Scots trading as merchants in Trinidad at this time and the two men developed close business links with a number of them. A select few would become trusted life-long friends and business associates, and in some cases part of the family.
This was the case when John's daughter Agnes married Edinburgh born merchant James Wilson at Port of Spain in April 1847. James was a most capable individual who was working for the Taylor family business at the time, and he appears to have become John's trusted right-hand man in both business and family matters right up to and beyond John's death.
Return to Scotland
1849 proved to be another eventful year bringing about significant changes for John and his family. John's personal circumstances were about to change and this was probably the main reason for him returning to Scotland on a permanent basis. He married his second wife, a Margaret Simpson of Liverpool, on 5th June 1849 in Glasgow, with his Baptist minister father performing the marriage ceremony.
John continued to trade with Trinidad as a merchant, with his business now based at 19 Cochrane Street in the Merchant City area of Glasgow. John junior also returned to Glasgow around this time and he too continued as a West Indies merchant, however the father and son business partnership was dissolved in May of that year and they began trading independently of each other.
While most of John's family also returned to Scotland around this time, his two youngest children Janet and Thomas opted to remain in Trinidad. Janet would marry Falkirk born merchant William Graham at San Fernando in October of that year, while Thomas had since become an established merchant in his own right.
This eventful year was drawing to a close when a third family wedding took place. John's daughter Elisabeth married Glasgow born merchant Alexander Taylor at Govan in December. Alexander had become a close friend and business associate of the Taylors whilst in Trinidad and these close links continued back home in Glasgow after their return from the island.
New beginnings
Once John was settled back in Glasgow a second family with new wife Margaret soon followed with Sophia born in 1851, Georgina in 1852, Victoria in 1854, William in 1856, Mary in 1858, and finally Jemima in 1860.
While this would have been a particularly happy period for John with his new wife Margaret and their expanding young family, fate was much less kind to the two children from John's first family who had remained in Trinidad. First of all came news that daughter Janet had lost her merchant husband William Graham when he died towards the end of 1854. Two years later John learned that his son Thomas had died in Trinidad on 26th August 1856 aged just 25. And further tragedy followed when Janet, who had since returned to Scotland and married ship owner Thomas Whyte of the Clyde Shipping Co at her father's home in July 1858, died at Govan on 11th December 1860. She was just 31 years old.
The 1861 census recorded John's family living in very pleasant surroundings at 17 Royal Crescent in Glasgow, part of an elegant crescent shaped row of substantial terraced townhouses set back from the road near the Kelvingrove end of Sauchiehall Street. This category B listed building was designed by notable Glasgow architect Alexander Taylor (no relation) who was responsible for a number of other stylish dwelling houses built in Glasgow during the 1830s and 1840s. Royal Crescent was completed around 1849 and survives in a largely unaltered and well maintained condition today.
Sudden endings
This snapshot in time of John's young family at home would change less than three years later when his second wife Margaret died unexpectedly at Kirn, Argyll on the 15th October 1863 at the age of 43. Margaret's passing left behind John with their six young children, the youngest of which was Jemima at just three years old.
Further change came about all too soon when John died suddenly(probably from a heart attack)  less than three years later aboard a train at Bridge Street station in Glasgow on the afternoon of Wednesday 7th February 1866. He was 73 years old. He was laid to rest at the Necropolis in Glasgow five days later on Monday 12th.
The success of his West Indies merchant business became apparent in the extensive estate he left behind. He had set up a trust to ensure that all of his surviving children maintained a comfortable and well supported way of life upon his demise. This extended out to include his Grandchildren and other relatives, particularly those less fortunate than others, who would also benefit from his legacy. A number of institutions in his native Paisley including the Old Weavers Society and the Storie Street Baptist Church also benefitted, as did the Glasgow Royal Infirmary.
John's first family in later life
The surviving children from his first marriage had all settled comfortably in and around the Glasgow area with their families after the highly successful Trinidad era of the 1840s, and those who had been involved in Trinidad business continued to trade with the island.
John junior and his family lived just a short distance from his father at Newton Place in the Charing Cross area of the city. He became a magistrate and a long serving councillor but continued to trade as a West Indies merchant until he passed away at home on 9th May 1878 aged 62. He was buried at the Necropolis in a family lair of his own four days later.


Margaret's family moved away from their Carmunnock farm to live in the Kinning Park area on the south side of Glasgow. They later moved to Cathcart before Margaret spent much of her later years living at Royal Street in Gourock. She survived her husband by seventeen years and died at Mount Florida on 4th March 1895 at the age of 77. She was laid to rest beside her father three days later at the Necropolis.
Elisabeth and her family lived in the Shawlands and Eastwood areas south of Glasgow after their return from Trinidad and subsequent marriage. Elisabeth's husband Alexander Taylor continued to have close business links with John senior and junior through his Calenderer business. Elisabeth was the last surviving member of John's first family when she died in Glasgow on 2nd February 1908, aged 88.
Jean did not keep in the best of health throughout her life and died in Glasgow just nine months after her father on 17th November 1866 at the age of 41. She was also laid to rest beside him at the Necropolis.
Agnes and her family eventually settled at Trinidad Villa on Paisley Road in the burgh of Govan. Her husband James Wilson was a particularly successful gentleman: he became a Police Commissioner for the Govan force in 1865 and later became Provost of Govan from 1872-1880. He also served as one of John Taylor's trustees, and appears to have taken over much of John's business interests upon his death. The Wilson's later retired to the extensive Bantaskin Estate at Falkirk, where Agnes passed away on 2nd February 1892 aged 65. James died there in 1904.
John's second family in later life
John's children from his second marriage to Margaret were still at a very young age when he died. Five years after his death, the 1871 census recorded Sophia, Victoria, Mary, and Jemima living with relative Jessie Park at West Campbell Street in Glasgow city centre, while Georgina and William were recorded at boarding schools in Brighton and St Andrews at this same time. By 1873 the siblings had moved into a substantial villa together on Kirklee Road in Kelvinside where they lived until most of them had married. The trust set up by John, which included James Wilson as one of the trustees, appears to have ensured his second family were well educated and lead to them having successful adult lives.
Sophia married Elgin born merchant William Tulloch at her home in Kelvinside in September 1875. They resided for many years at 41 Athole Gardens in Hillhead and raised their family of five there. They later moved to 'Dariel', a large villa situated at what was 62 Montgomerie Drive in Kelvinside. This address later became Cleveden Drive. Sophia passed away at home on 11th December 1923 at the age of 72, less than three months after her husband. They were both interred in the Tulloch family lair at the Necropolis.
Georgina married Paisley born Doctor Joseph Coats, who was part of the well known Coats family of Paisley, at her Kelvinside home in December 1879. They initially lived at Elmbank Crescent and then Lynedoch Street, before moving to nearby University Gardens when Joseph became Professor of Pathology at the University of Glasgow. Like the Taylors the Coats were extensively involved with the Baptist Church in general and the Adelaide Place Baptist Church in particular. Following Joseph's untimely death in 1899 Georgina moved to the Hyndland area of Glasgow and lived there until she passed away on 19th June 1927 aged 74 while on holiday at Pitlochry. She was buried in the Coats family lair at the Necropolis.
Victoria died at just 19 years of age at Valetta, Malta, on 20th December 1873. She had been suffering from poor health and had travelled to the island with sister Georgina in the hope of improving her health but she sadly succumbed to her illness whilst there and was buried on the island. She is commemorated on her father's gravestone at the Necropolis. She is also remembered in a large stained glass memorial window at the Adelaide Place Baptist Church on Bath Street in Glasgow which the Taylor family attended. The window was raised by James Wilson when the church first opened in 1877. The church and the memorial window both survive to this day.
William married Mary Robertson of Dunfermline in her home town in 1882. The family were well travelled, with their three children born as far apart as Glasgow, New Zealand, and South London. The 1911 census recorded William as a partner in a General Colonial Agents firm and living in the West Hampstead area of London. William died suddenly at Westgate on Sea, Kent on 22nd August 1913 at the age of 56, and was buried beside his father in the Necropolis five days later.
Mary married Indian born bank accountant George Bennett at the Coats family home on Lynedoch Street on 30th October 1889. Mary's family were recorded living at Baillieston in the 1901 census but they subsequently moved to nearby Bothwell. Mary outlived both her husband George and only son John, and later moved to Callander in Stirlingshire where she lived until she passed away on 28th June 1940 aged 81. She was buried at Callander.
Jemima married Dunfermline born John Robertson on 29th April 1884 at the Coats family home on Elmbank Crescent. Jemima's husband John was a linen manufacturer, and his sister Mary Robertson had married Jemima's brother William two years previously in Dunfermline. The couple raised their family in Dunfermline and subsequently lived there all their lives until Jemima passed away at home on 16th May 1944 at the age of 83. She was the last surviving child of John Taylor.
Grandchildren and subsequent John Taylors
John had a total of thirteen children by his two marriages and a remarkable forty two grandchildren. Recurring names is a regular feature for many families and the Taylor family were no exception. Two of his Grandchildren were christened "John Taylor" while another five became "John Taylor ______". The name has subsequently continued through several generations and the writer of this article is the fourth successive John Taylor Park, all direct descendants of John's eldest daughter Margaret.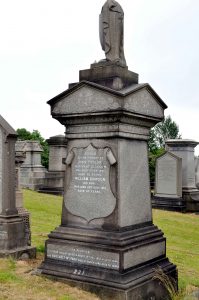 Sources
While the basic outline of the story including the family connection to Trinidad had been passed down through family generations, much of the finer detail including dates and locations had been lost through the passage of time. The following sources have been invaluable in filling in some of these details and are gratefully acknowledged here:
The National Records of Scotland and the excellent Scotlands People website.
The British Newspaper Archive website
Susan Taylor of the Guildford and District Philatelic Society for her extensive knowledge of the history of Trinidad and archive material available.
Sheila Riach at the Adelaide Place Baptist Church in Glasgow.
Morag Fyfe at the Friends of Glasgow Necropolis website for accessing the Necropolis database.
Christine Lumsden for her chapter entitled "Her Children Arise and Call her Blessed: the Place of Women in Scottish Baptist life" in A Distinctive People: a Thematic Study of Aspects of the Witness of Baptists in Scotland in the Twentieth Century, edited by Brian Talbot, 2014.
See also
John Taylor junior (not senior) https://www.theglasgowstory.com/image/?inum=TGSA00198&t=2
James Wilson   https://www.theglasgowstory.com/image/?inum=TGSA00132#:~:text=Mitchell%20Library%2C%20The%20Bailie&text=James%20Wilson%20was%20Provost%20of%20Govan
Port of Spain   https://en.wikipedia.org/wiki/Port_of_Spain
San Fernando   https://en.wikipedia.org/wiki/San_Fernando,_Trinidad_and_Tobago