Glasgow Fire Memorial
Cheapside Street Fire
On 28th March 1960, a bonded warehouse in Cheapside St, Anderston, Glasgow, owned by Arbuckle, Smith & Co Ltd, went up in flames. Men from every division of the Glasgow Fire Service attended, even those who were not on duty that night, such was the dedication of those men.  It was a fire the likes of which Glasgow had never seen and one which would live on in the memory of many Glaswegians to this very day.  At its peak 450 fire fighters were engaged in fighting the blaze that was fuelled by more than a million gallons of whisky and rum, which sent fierce flames into the night sky, that could be seen for miles around.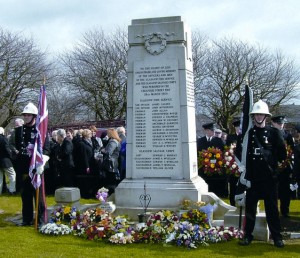 In all 14 firemen and 5 salvage men were killed that night, when the walls of the warehouse blew out into Cheapside St and Warroch St as a result of an explosion within the building.  Three fire appliances were also buried in the falling masonry.  The fire actually took a week to put out.
A public funeral took place on Tuesday 5th April 1960, and the citizens of Glasgow lined the streets to pay their respects to these heroic men, and it was no exaggeration to say this city literally came to a standstill. A public fund in aid of the wives and children of those who lost their lives was launched by the Lord Provost and a final sum realised amounted to £187,360, of which a significant amount came from ordinary men, woman and children of Glasgow.
Kilbirnie Street Fire
On 25th August 1972, a fire started in the Sher Bros' cash and carry textile warehouse in Kilbirnie Street, Glasgow. A fireman was trapped by the debris, and six of his colleagues brave and true formed a rescue party to search for him.
A blow out occurred and part of the roof fell on the rescuers.  In total seven firemen died that night. Some 3,000 mourners, including an estimated 500 firemen attended the service in Glasgow Cathedral, and loudspeakers relayed the service to a further 2,000 outside, 14 lorry-loads of wreaths were received.
Again widows and children were left to mourn the husbands and fathers who never came home again.
Never let it be forgotten, the ultimate price, these firemen paid for their city, or the debt we owe to all our firemen who perform a public service we must never take for granted.