Angus Turner
This profile was contributed by James Hardie
Additional material by Ruth Johnston and Scott Kerr
Angus Turner was born to John Turner and Christine Morison on 23rd May 1800 in Greenfield near Faslane and he had two sisters, Margaret and Christina. Margaret married William Connal*.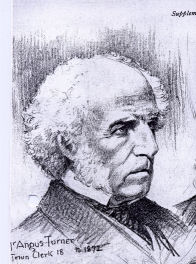 Angus Turner started his legal career in Edinburgh but in 1825 became writer in Glasgow City Chambers to James Reddie (also buried in Glasgow Necropolis). He worked his way up to the highest position of Town Clerk by 1857 and was head of the Town Clerk's Department in the city of Glasgow for fifteen years. In effect this meant that he was the ëmanaging director of the city and he held this position until his retirement in 1872.
Another picture of Angus Turner can be found here
He was law agent to the trustees of the Clyde Navigation, the Port Glasgow Harbour, the Clyde Lighthouses, the Bridges Trust and the Court Houses.
On 10th October 1830 he married Mary Graeme. He was at this time living at 30 West Bath Street Glasgow and they later moved to 14 Woodside Terrace Glasgow.  Mary Graeme, a Graeme of Garvock ** whose family traces back to King Robert lll and whose family was given forfeited land by James VI of Scotland for assistance against the Earl of Gowrie. Turner's own family was supposed to be linked by marriage to William Wallace.
He was extremely able and conducted the City's business with real flair despite being hugely unpopular with councillors and elected officials whom he treated with disdain. He retired with a pension of  £2,500.00 (equivalent to £113,000 today) which was exceptional at that time.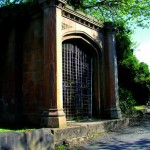 On his retirement he set up home at Pitcairns House near Dunning. This was then and still is owned by the Rollo family. In 1870, Angus Turner purchased Kippen House, also near Dunning from his wife's nephew Charles Graeme the 15th of Garvock. It is clear from Angus Turner's Will that at the time of his retirement he had become one of the landed gentry.
On 1st September 1876 he made his 6th and last change to his will and feeling unwell went directly to stay with his sister Mrs Margaret Connal who was on holiday in Clutha Villa, Wemyss Bay. The weather was poor initially but on 9th September he went for a swim and drowned. His body was returned to Mrs Connal's home in St Vincent Street in Glasgow. The funeral was conducted by Reverend R S Oldham of St Mary's Episcopal Church and he was buried in the Glasgow Necropolis.
His will is a lengthy document and he names various executors : his wife, Mary Graeme, his daughter, Jane Anne Caton, (widow), his grandson, Redman Bewley Caton, schoolboy, his second daughter, Mary Hellena de Sertey or Spofforth, his sister Margaret Connal, (widow), his nephew Robert de Graeme Graeme of Garvock. He left his butler £100 and all his clothes.
There was investigation in 1884 about money left in a will and given in trust to Angus Turner – there will be further entry on this after more research.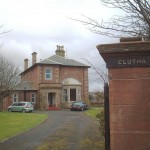 Angus Turner is sometimes referred to as being of Glentyre and James Hardie has photographed a house of this name in the main street in Dunning. It could be part of an old farmhouse relating to land owned by him before he acquired Kippen House.
A Short History of Scottish Country Houses published in 1977 by Fay Paterson Cumming deals with Kippen House with a section on the Graemes of Garvock and on Angus Turner and his family.
The Historical Society in Dunning has details of the Graeme family tree.
*WILLIAM CONNAL
**GR∆ME or GRAHAM FAMILY HISTORY