Alexander Porter Leitch
The information for this profile of her father was supplied by Dorothy Mackay-Collins, St. Helena, California.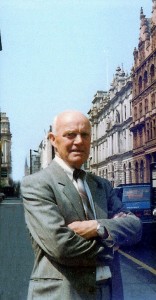 Alexander Porter Leitch was born in Glasgow April 5, 1909 the fifth child of Catherine Stewart Cruickshank and Charles Leitch both of the City of Glasgow.  Together they had six sons and lived in a tenement flat on York Street.
When at school around age 10 his teacher, who was watching him draw, said: "Keep that up Leitch and you'll make your money with that pencil. some day". Alec left school at 14 and worked delivering various legal papers for some business in the City. In 1924, at the age of 15, he began his apprenticeship as a joiner for the Harland and Wolfe Shipyard in Linthouse, Govan. In 1931, during the Depression. along with many others, Alec was laid off.  He walked the streets trying to find another job, discovered a contractor who was building houses and signed on as a roofer.
When the job was finished, he went to Douglas, Isle of Man for a fortnight's holiday and met Rubina Campbell Giffin. Before the end of the holiday he told her he was serious and wanted to marry her, adding that it would be 5 years before they could afford to marry.
In 1935 work at the shipyard began again and Alec returned to Harland and Wolfe.  He also enrolled in Night School and began a seven year course in drafting. Later that year he went on holiday to Bangor and met Ruby again. They agreed to save up for marriage and planned it for April, 5, 1936. They were married in the Macgregor Memorial Church in Whiteinch. In 1937 a daughter, Dorothy Leitch, was born in the flat they rented in 25 Hutton Drive, Linthouse.
The Second World War broke out in 1939 and Alec remained at the shipyard working days and nights to assist in the repair of ships brought in and turned around for immediate sea duty. A son, William Cruickshank Leitch, was born in the Linthouse flat in 1943. The night William was born there was an air raid.  Ruby's mother was present at the birth and when the air raid started soon after there was a flurry of activity. Alec rounded up some men with a make-shift stretcher and the men carried Ruby to the nearest shelter. As it turned out Ruby's mother and the baby were in a different shelter. Not until the all-clear and a return home did they discover that Dorothy was missing but thankfully she was rescued by the Home Guard and safely returned.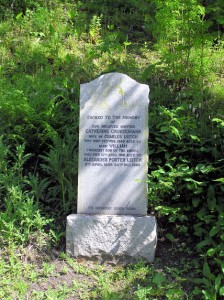 Alec and Ruby wanted to move to Cardonald where her parents lived and from where Ruby had been married. As housing was very tight, they finally managed it by moving in with Ruby's parents. Meanwhile, Alec continued to work at Harland and Wolfe as Foreman and then Head Forman. Mr. Dunlop, the General Manager, took a keen interest in Alec and encouraged him to use his drafting skills.
A sister for Dorothy, Arlene Jean (now Patterson), was born in Orchard Park Nursing Home, Giffnock, in 1952.
When the Scottish shipbuilding industry reduced after the war, Alec began to earn his living by the use of his pencil. He worked closely with architects and draftsmen to set out building plans. He worked for several companies, two in particular, Giffin and Sons, Glasgow, and Serventi of London. He took great pride in his work and later on in life when Dorothy, his eldest child, returned to Scotland on visits from America, he would take her to the various buildings in which he could display the results of his work.
Alec worked hard all of his life and he was probably closest to his younger brother Willie who was killed during the war. He also had friends in Ruby's two brothers, Thomas and Johnny. When other men might have retired to play golf or work in the garden, Alec continued to find employment. He used to boast that retirement was easy, "I've done it several times."
Alec died in the Southern General Hospital having fallen from his bed in his Cardonald home on Christmas Eve. While Dorothy was told by the doctor at the hospital that he was only bruised, it is her belief that Alec thought he would not be allowed to return to his home in Cardonald, and simply closed up and died.
He is buried in the Glasgow Necropolis beside his mother, Catherine and younger brother, William.